News
A GUIDE TO OUR ACCREDITATIONS
21/04/2022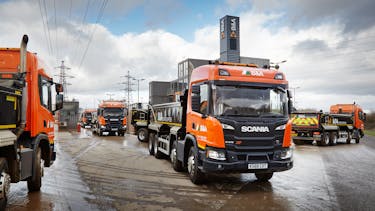 As a successful company that is growing, we're committed to setting and raising standards within the industry. One of the ways we show this is by holding a number of accreditations and memberships to professional bodies. This helps us adhere to strict standards around safety, risk management, procurement and environmental impact, as well as benefiting from shared knowledge and expertise and helping lead the conversation around standards in the construction sector.
Many of these accreditation schemes fall under the umbrella of Safety Schemes in Procurement (SSIP), ensuring all member schemes assess to the same standard. The aim of SSIPs is to reduce health and safety assessment costs and bureaucracy in the supply chain.
FORS
We recently received our Fleet Operator Recognition Scheme (FORS) Bronze accreditation. This scheme is designed to help improve companies' road transport policies, by making them more efficient, minimising their environmental impact and placing a greater emphasis on health and safety.
To achieve this accreditation, companies must meet certain specific, exacting standards. A full audit process is involved, requiring evidence of systems, procedures and documentation that demonstrate your company can meet the required standard.
Holding this accreditation is one more step towards making B&A Group safer, more efficient and more environmentally conscious in our fleet operations. Not only that, but it helps us deliver cost savings to our clients, giving them assurance that we follow best practice. Finally, it demonstrates to our drivers that we're fully invested in their safety and development.
ISO 9001 & ISO 14001
ISO stands for the International Organisation for Standardisation. The organisation sets out strict standards and best practices for businesses, authorities and others to adhere to, covering a huge variety of aspects of operations, such as storage, procurement, environmental policies, manufacturing and more.
We currently hold two ISO accreditations:
ISO 14001 relates to Environmental Management Systems. Accreditation helps organisations reduce their environmental impact across their operations. This includes reducing pollution, minimising waste and utilising raw materials and energy efficiently. It shows our clients and partners that we're committed to improving our environmental status, as well as resulting in cost savings, thanks to a reduction in overheads for things like waste, energy and water consumption.
ISO 9001 relates to Quality Management Systems. This accreditation helps us focus on continually improving our operations, reducing risk, increasing customer satisfaction and efficiency. By making our management system processes more efficient, we are showing clients that we're constantly achieving best practice and seeking to work smarter.
Quality Manager Karen Whitmore and Environmental Manager Helen Griffin work together to review and update our accreditations.
CL:AIRE
CL:AIRE, which stands for Contaminated Land: Applications in Real Environments, is an independent, not-for-profit organisation. Established in 1999, the mission of CL:AIRE is to 'stimulate the regeneration of contaminated land in the UK by raising awareness of, and confidence in, practical and sustainable remediation technologies'.
As a company involved in sustainable land reuse, B&A Group has benefited greatly from the support and resources that come from being a CL:AIRE Principal Member. Through training, resources, up to date information on innovations and best practices, CL:AIRE offers a valuable service to its members. We also get the opportunity to be involved with industry working groups and initiatives, meeting other industry members and sharing knowledge around raising standards and improving efficiency within the sector.

Faster turnaround times, passing savings on to our clients
Not only are we corporate members for CL:AIRE, but we also have two in-house CL:AIRE Qualified Persons. Helen Griffin and Rob Lewis are both CL:AIRE qualified persons, which allows us to review donor site information for materials management without the need for outsourcing.
IOSH
The Institution of Occupational Safety and Health (iOSH) is the largest membership organisation for health and safety professionals. Our iOSH accreditation shows clients, partners, suppliers and staff our commitment to making our workplace safer, healthier and more sustainable. Formed in 1945, iOSH works with governments and policy makers, commissioning research into health and safety and setting standards for organisations to adhere to, ensuring their work environments are as safe as possible. At B&A Group, we prioritise workplace safety, health and wellbeing, so this accreditation means a lot to us.
SMAS
Safety Management Advisory Services (SMAS) is one of the UK's leading health and safety assessment providers. The independent body assesses thousands of contractors each year within the construction industry. Its goal is to ensure consistently high standards of health and safety compliance within the industry. As an independent auditor, SMAS ensures that contractors remain fully compliant with health and safety standards and legislation set out by the Health & Safety Executive (HSE).
To maintain our SMAS accreditation, we undergo a rigorous assessment process each year, providing SMAS with detailed evidence of our robust health and safety systems and practices. This includes any relevant policies, our risk assessment procedures and training.
This accreditation is fully supported by HSE and covers all of the core criteria published by HSE in Appendix 4 of CDM 2007 Approved Code of Practice (later as part of CDM 2015).
Not only does this accreditation showcase our commitment to upholding strict health and safety standards, but it also helps give our clients added peace of mind. In fact, many companies will only work with contractors who hold such accreditations. Working with a SMAS accredited contractor guarantees that all UK health and safety legal obligations will be met throughout the course of the projects.
WRAP
As a producer of high quality quarried and recycled aggregates, our adherence to the WRAP Quality Protocol is essential for showing clients that our aggregate products are produced to the highest standard. We must demonstrate that our aggregate production meets the WRAP criteria, including providing evidence of delivery documentation for every load of recycled aggregate we dispatch.
As well as manufacturing, the protocol also covers good practice for the storage, transportation and handling of fully recovered products. It aims to encourage increased recovery and recycling across the industry.
It means that our clients can have full confidence in the quality of our recycled products.
FREIGHT TRANSPORT ASSOCIATION – LOGISTICS UK
We are also registered members of the Freight Transport Association. The FTA supports its members with valuable, up to date industry advice, regular audits and helpful training and policies. This helps us and our fellow members keep our operations safe, efficient and compliant.
UVDB
B&A Group is a registered supplier on the Achilles UVDB Community. Our membership covers our work in the areas of:
Demolition and clearance
Land reinstatement
Construction of waste disposal site
Geotechnical site investigations
Earthworks – rail
Embankment works – rail
Cutting works – rail
UVDB is the utility industry pre-qualification system used across the UK, helping companies achieve high standards when it comes to supply chain management. The community provides us with invaluable data which helps us mitigate risk, improve working conditions and increase sustainability. This helps our clients by giving them increased assurance when working with us. We go through rigorous, industry-specific prequalification processes, so our clients know we can meet the highest of standards.
SAFECONTRACTOR
Our SafeContractor accreditation shows we are putting the health and safety of our team first.
As the process involves being audited on an annual basis, membership of the SafeContractor scheme shows that we abide by the relevant legal health and safety requirements and are committed to reducing risk and prioritising employee, contractor and customer well being.
CONSTRUCTIONLINE
We currently hold Constructionline Silver membership. Being part of Constructionline helps us further optimise our performance, minimising potential risks and identifying opportunities around supply chain management and procurement. To be a member, organisations must submit to rigorous assessments that are aligned to PAS 91 – a pre-qualification questionnaire for suppliers, developed by the British Standards Institute and recognised as the minimum standard for construction procurement. This helps streamline our work, showing clients that we meet their required standards, without the need for a variety of different audits.
AVETTA
Another safety accreditation we're proud to hold is with Avetta. Our Avetta accreditation demonstrates our commitment to safety and compliance when it comes to supply chain risk management. To learn more, visit the Avetta website.
CHAS
CHAS is the leading accreditation scheme for contractors and supply chain management services for clients and one of the founders of SSIP. Being accredited by CHAS helps us ensure compliance when it comes to risk management, mitigating potential supply chain risks and improving overall supply chain management. The standards of risk management are constantly changing. Our CHAS accreditation helps us stay ahead of these changes, making sure our standards are exacting.
Accreditation involves an annual audit, reviewing all aspects of our risk management policies. Holding this accreditation showcases our commitment to health and safety, for our staff, partners and clients.
An ongoing commitment to raising standards within our industry
Monitoring and maintaining these accreditations is an ongoing commitment. All of our staff are involved in record keeping, evidence gathering and generally adhering to each scheme's requirements.
By holding these accreditations we are showing our commitment to being the best in terms of our work, the way we operate, how we value the people we work with, and our overall ethos as a company. We want our clients, suppliers and subcontractors to have confidence when working with us. These accreditations offer assurance that we take issues like safety and the environment very seriously.
Setting ourselves such high standards and maintaining them is an ongoing commitment. It impacts everything we do. Our teams are constantly monitoring our services and operations, with many different staff members from across the business involved.
And, while in some cases membership to certain schemes may be a requirement for certain contracts, we actively choose to take on the added work to be part of others as it's important to us to set an example within our industry.
For us, what's most important is reassurance. Reassurance for our clients, partners, suppliers and staff that the ways we operate adhere to strict standards, ensuring our processes can be relied on and that we prioritise safety, efficiency and quality at all times.
To learn more about our accreditations, get in touch with a member of our team. Email info@bristonandavon.co.uk or call 01179 829561.