News
Our new 'Ultimate' V8 Tipper Lorries
07/07/2022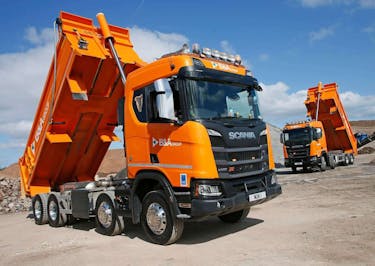 This year, we were pleased to add 2 brand-new Scania V8 to our fleet. The new Scania V8 range is ideally suited for heavy haulage customers and those working in the most arduous conditions, such as forestry, earth moving and other on-off road applications. In addition to the increases in power, the new engines deliver fuel savings of up to 6 percent!
It's safe to say that our team are thrilled with the latest addition to our fleet. Our experienced drivers have said: "The vehicles specification both inside and out are second to none, this is of huge benefit when driving all day. The engine is fantastic and very economical."
In a recent press release, Charlton Bodies has echoed our excitement of adding their leading Quarrymaster body to our exceptional new trucks and have said:
"Operators in our industry have always had a wide choice of tippers, from the everyday models to those of a more premium specification. Now the bar has been raised a whole level higher thanks to the Bristol & Avon Group introducing a completely new class of vehicle entirely - the 'ultimate' tipper - in the shape of a pair of Charlton - bodied Scania eight wheelers specified with both R sleeper cabs and the Swedish manufacturer's mighty 16.4 litre 660hp V8 engines.

To fully complement such a unique, top of the range driveline, Charlton's ultra - tough Quarrymaster tipper body almost chose itself. Carried on a full length subframe and built in Hardox, the 15.5cu.m capacity Quarrymaster features a curved 5mm floor, 4mm single piece sides and a raked rear end complete with a 150mm high hung tailgate and cab operated air locking.
Having fully painted both the bodies and cabs at their facility in Dover, Charlton was able to deliver the finished vehicles immediately ready for work. Well aware of the new tippers' PR and marketing potential for B&A, the two new Scanias have also been registered with the highly distinctive twinned plates of MUK 1 and 1 MUK."
Our new trucks have only been in service for a couple of weeks, but their initial fuel returns 7.5 to 8mpg which is extremely impressive for such big and hugely powerful engines. The massive 3,300Nm of torque means smoother progress with lower revs and reduced gear changing.
Thank you again to Charlton Bodies and we're so excited to see the difference these two trucks will make to our upcoming projects!