Bulk Earthworks in Bristol and the South West
Call us now on
0117 982 9561
and select option
1
to discuss your project requirements
We are experienced in the on-site processing of excavated materials which, when undertaken in conjunction with the treatment of geotechnically impaired or contaminated materials, maximises reuse of site won materials and assists with the sustainability of a project. Frequently bulk earthworks, when undertaken on brownfield sites, will uncover former structures and obstructions, which can be processed on-site or at our own soil and aggregates recycling facility.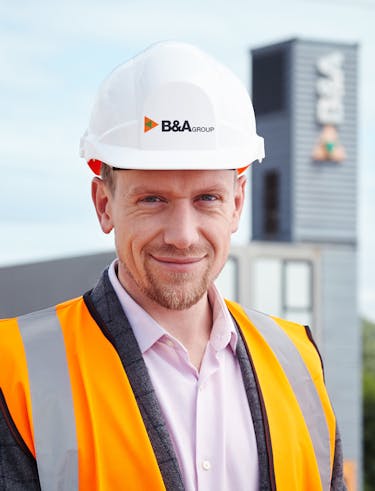 Ben Higham
Head of B&A Land Regeneration Division
Email Ben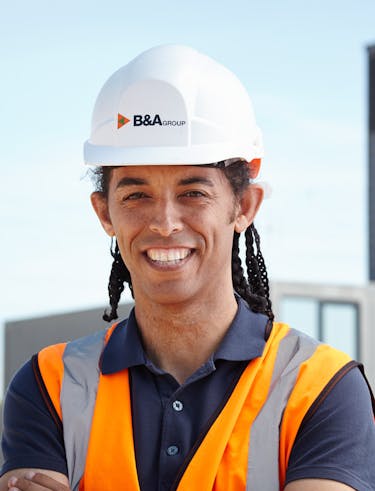 Ashley Bruno
Group Sales Manager
Email Ashley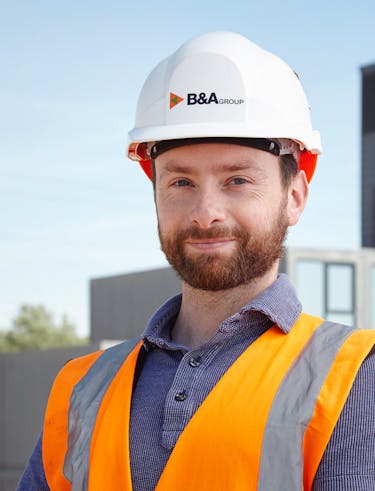 Chris Jury
Technical Sales Representative
Email Chris
Our Experienced Team
B&A Group has an experienced team of earthwork professionals and will work with you, your consultants, project managers and funders from the initial contact to review the design, model the proposed earthworks, suggest value engineering options and undertake the physical works.
B&A Group is a progressive company, working in partnership with our clients to deliver our projects using innovation and modern construction techniques. Utilising Trimble Machine Control across our fleet of earthmoving plant enables earthworks to be undertaken accurately and efficiently and allows the creation of complex landforms.
We undertake each project as a unique opportunity and with careful consideration of the site neighbours, stakeholders and the local environment.
As an experienced brownfield regeneration contractor, B&A Group understands each stage required to deliver a finished product on time, safely, to budget and sustainably. We can offer a turn-key solution for your project from site clearance and bulk earthworks to soil stabilisation and remediation of contaminated soils. Our ability to integrate excavation and bulk earthworks within site remediation and development, works to reduce programme time and cost.
Up to date technology
B&A Group invests in the latest technology and utilises Trimble GPS machine control to allow precise earthworks control with the added facility to capture data in real time. Technology when mixed with experienced machine operators provides confidence that your project will be undertaken safely, to programme and budget and to a high standard of quality.
At B&A Group we use drone technology to accurately produce quality aerial imaging and measure earth moving. We capture and process accurate drone-based elevation data in a matter of hours. Earthworks and stockpile analysis is carried out both safely and rapidly.

Using a drone is up to five times faster than with land-based methods, requires less manpower and can map otherwise inaccessible areas. We can also create 3D visual models of the whole site, which can be geo-referenced if required.
Earthworks solutions we have delivered for clients
Bulk excavation and material management – on-site and off-site
Landfill – creation, operation and restoration
Sports' field construction
Lakes and landscaping
Golf Course construction
Quarry works – overburden movement and restoration
Flood alleviation / land raise
Creation of acoustic and visual screening bunds
Geotechnical improvement – surcharge placement & monitoring, stabilisation
Remediation of contaminated soils
Site clearance and obstruction removal & processing
With the ability to supplement our earthworks services with in-house aggregate generation and supply, remediation and off-site disposal operations, B&A Group can trim your supply chain and deliver.
Our Accreditations
QP Qualified Persons with CL:AIRE,
B&A Corporate membership of CL:AIRE (Contaminated Land : Applications in Real Environments).
Qualified staff with a range of Scientific and Environmental qualifications and charterships including BSc, MSci, PhD, CSci, CIWM, Level 4 WAMITAB
CPCS and NPORS trained plant operatives
CSCS Supervisors
SSSTS and SMSTS trained supervisors and managers
UKATA Asbestos trained