Asbestos Impacted Site Inspection
Call us now on
0117 982 9561
and select option
4
to discuss your project requirements
From undertaking initial soil sampling, to qualitative and quantitative analysis, agreeing a remedial strategy and plan of work through to implementing remediation, B&A's team of trained, competent staff and supply chain can manage the challenge of asbestos in soil contamination and enable the safe and sustainable redevelopment of your brownfield site.
Safe, accredited asbestos removal
It is estimated that 85% of brownfield sites have asbestos / ACM as a key contaminant in the soil which presents a challenge for the sites' redevelopment, for the safety of those involved in the construction process and for those using the land in the future.
Asbestos can be ingrained in soil due to previous demolition activities or historical land raise where impacted materials have been imported.

B&A is a corporate member of CL:AIRE and undertakes brownfield assessment and asbestos remediation in accordance with the Control of Asbestos Regulations (CAR-SOILTM).

What is Asbestos?
Asbestos is the general term used for fibrous silicates of which 3 main types are commonly encountered: -
Crocidolite – "Blue Asbestos", commonly used in asbestos cement products, jointings and packings.
Amosite – "Brown Asbestos", commonly used in fireboard, pipework, lagging and insulation coatings.
Chrysotile – "White Asbestos", commonly used in insulation and sound proofing.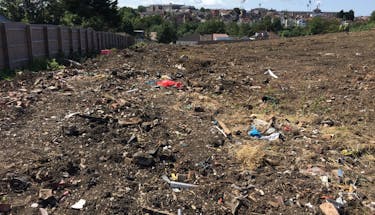 Lockleaze, Bristol
Land South of Morris Road, Lockleaze, Bristol , Renelec Groundworks Ltd
View case study
Our Accreditations
QP Qualified Persons with CL:AIRE,
B&A Corporate membership of CL:AIRE (Contaminated Land : Applications in Real Environments).
Qualified staff with a range of Scientific and Environmental qualifications and charterships including BSc, MSci, PhD, CSci, CIWM, Level 4 WAMITAB
CPCS and NPORS trained plant operatives
CSCS Supervisors
SSSTS and SMSTS trained supervisors and managers
UKATA Asbestos trained