News
G-Jima Helps Set Guinness World Record at Tantora Balloon Festival
05/02/2020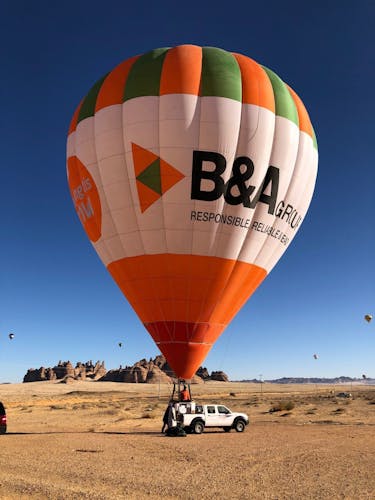 A little over six months since G-Jima's fantastic debut at the Bristol International Balloon Fiesta and our incredible balloon has made its first trip overseas, and even been involved in setting a World Record!
Along with pilot Derek Maltby, G-Jima was one of 100 balloon teams invited to the second Winter at Tantora Festival based near UNESCO World Heritage site Al 'Ula in Saudi Arabia.
Teams came from all over the world to take part in the festival. In total, 13 British teams took part, including G-Jima.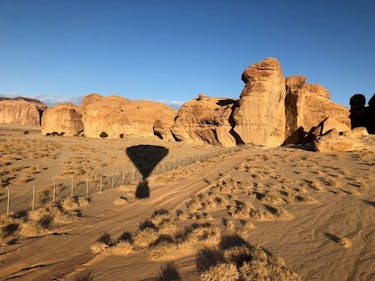 The purpose of the festival is to promote the area of Tantora, the largest preserved site of the ancient Nabataean civilisation. The kingdom of Nabataea covered the region of modern day Jordan from the 4th century BC until 106 AD, before becoming part of the Roman Empire. The ruins of capital city Petra, still stand today.
Particularly striking is the sight of the ancient tombs, carved into the rocks by the Nabatean people. There are more than 100 tombs, elaborately carved.
Tantora is a beautiful, historic site and virtually unknown in the western world. Saudi Arabia is trying to encourage more tourism to the area, of which the festival plays a big part.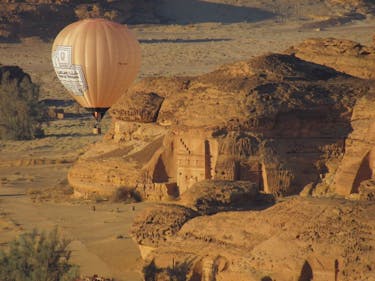 Over the course of the event, G-Jima flew a total of 5 times, including a tether with 30 other balloons and a stunning night glow. The night glow began at midnight and lasted an hour, with all 100 balloons taking part. It was certainly a sight to behold by motorists travelling along the roads below!
Together, the 100 balloons made the Guinness World Record for the longest hot air balloon glow show, spread across an incredible 3km of desert. A brilliant achievement for all involved.
B&A Group are thrilled that G-Jima was able to take part in this memorable event. A big thank you to pilot Derek and the team for a job well done!
Take a look at the video below to see a shot of G-Jima in the record setting night glow.