News
In the Spotlight: WTN Administration Team
07/09/2021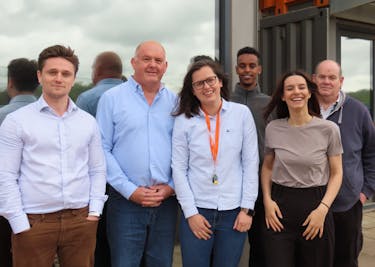 This month we thought we would give you an insight into the crucial role our WTN Administration team plays within the B&A Group company structure.
Kathryn Nelmes, our WTN Processing Manager heads up the team of six, which includes Stephen Farr – WTN supervisor, Richard Pool – Quality Controller, Karolina Kapitanovaite – Subcontractor Relations and our Data Clerks, David Price and Warsome Hersi.
The WTN department works closely with the B&A Group sales teams who provide them with all information generated over the course of agreeing a sale and then handle all of the administration. Key responsibilities include processing WTN's, invoicing customers and approving payment for all subcontractors, quarries and permitted disposal sites.
Working closely with the Accounts department, this administrative process creates our customer and self bill subcontractor invoicing each week, and is crucial in the day to day running of B&A Group.
Kathryn has been managing this team for seven years, throughout a period of extensive growth for B&A Group. Kathryn's team meet the demanding daily admin requirements of B&A Transport & Recycling, as well as our new quarried aggregates company, Bristol & Avon Stone Supplies Ltd. The team are meticulous, hard working and co ordinate, generate and convert information quickly and efficiently.
Kathryns input and commitment to her role has been invaluable and is critical in reporting reliable and accurate information as well as ensuring we maintain good relationships with our extensive pool of subcontractors on both B&A companies.
When the pandemic hit, Kathryn said it necessitated the need to develop a strong weekly structure and routine to streamline all the teams functions so they could be performed as efficiently as possible.
When asked why she likes working at B&A, Kathryn said "I love working at B&A because they always keep me on my toes. I've seen and adapted to a lot of changes during my time here, establishing new working practices each time so my team can maintain the high level of service they provide. The people here are great and everyone works really hard."