News
Nicki Hawking celebrates 10 years at B&A Group
19/11/2018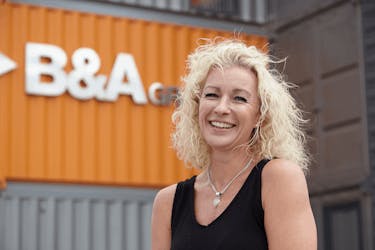 Our Credit Controller Nicki Hawking, is currently celebrating her 10th year work anniversary at the B&A Group.
Over the last decade, Nicki has seen B&A Group go from strength-to-strength while playing an important role in helping us grow from a small family-run business into a nationally, recognised organisation.
"The biggest change is the amount of people now working within the group," she said. "We've evolved into a team of over 130 and now have a substantial fleet of vehicles. Our accounts and sites have also grown exponentially to a revenue between £20m-£30m."
Now based at our new Hallen Headquarters, Nicki's role is varied and includes, collecting outstanding debts, processing credit applications and setting credit limits for external clients across Bristol and Avon Transport & Recycling Ltd and Bristol and Avon Waste Management Ltd.
She explained: "Part of my job requires establishing payment dates for invoices and chasing overdue payments. Many people say that they couldn't do it, but you need to be friendly, understanding and diplomatic," adding that she has built up both personal and professional working relationships with clients over the last 10 years.
Prior to her appointment, Nicki started work straight from school joining the Evening Post, where she progressed up the career ladder from an office junior position. "I trained on the job and for me this was the best way to learn. I like to be hands on," Nicki remarked.
In addition to her strong work ethic, she is a keen supporter of our nominated charity, Meningitis Now, and, as well as baking 100's of cakes over the years, has entered into various events including a 50k step challenge walking from Yatton to Cheddar and back along the strawberry line, where Nicki recently raised over £200.
Summing up her experience at B&A Group so far, she said: "It's gone so quickly it doesn't feel like 10 years, so I must be enjoying it", Nicki laughed. "It's the people here that make B&A Group such a friendly and pleasant place to work."
We would like to commend Nicki for all of her great efforts. We appreciate the hard work she puts in, the positive customer relationships she has developed and the support she offers all departments. Well done Nicki!