News
Providing 8,000 Meals for Vulnerable People Across Bristol
07/05/2020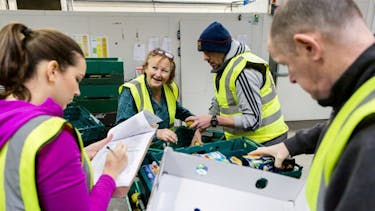 While our offices are temporarily closed, B&A Group are still committed to supporting our local community and helping those in need. So, last month we were delighted to present local charity FareShare South West with a donation of £2,000 to help provide food for the vulnerable in this time of crisis. Our donation will allow the charity to deliver up to 8,000 meals to the most disadvantaged in our city.
While the lockdown has affected us all in different ways, those who are the worst impacted are the most vulnerable in our society. That is why FareShare launched their emergency coronavirus appeal at the beginning of the lockdown, aimed at raising money to help them meet the increased needs of people during this crisis, providing food for children, families, those who are homeless, isolated elderly, refugees, women fleeing domestic abuse and others who are at risk of going hungry.
In response to their appeal, businesses and individuals throughout the region have stepped up to offer their support. According to Phoebe Ruxton, Head of Development for FareShare South West, "The dedication and support from our community has been overwhelming."
At the beginning of March, the charity's goal was to deliver 1 million meals in 2020. Now, with support from organisations such as B&A Group, they are currently on track to deliver over 2.5 million meals by the end of the year, having more than doubled the amount of food redistributed each week.
The charity has also been able to launch a new warehouse at Ashton Gate Stadium to store the volumes of food to be redistributed.
Julian Mines, CEO of FareShare South West, says:
"We are so grateful for the support of these South West based businesses. We appreciate that whilst this is a challenging time for charities, it is also challenging for many businesses in our region so seeing generosity like we have from those who are able to give is a real boost. The amount of money given will have a significant impact on the quantity of food we can get out over this crisis period. A huge thank you from us all."
FareShare South West is a locally based charity providing emergency food support to organisations throughout Bristol and the South West region, who in turn create meals for vulnerable people. Organisations supported include children's clubs, homeless hostels and refuges. With a team of over 150 active volunteers and 260 members across the South West, the charity were able to provide 970,000 meals in the past 12 months, preventing 535 tonnes of food from going to waste.
While the support the charity has received has been exceptional, they still expect the food crisis to go far beyond the end of lockdown and will need continued support to help ensure people don't go hungry.
Local comedian and supporter of FareShare South West's work, Mark Olver is hosting a virtual live comedy extravaganza from his back garden to help raise money for 4 Bristol based charities, including FareShare. Featuring well known guests such as comedians Russell Howard, Jon Richardson and Joe Wilkinson, plus BBC Points West presenter Alex Lovell, the event will take place on Sunday 10th May at 7:30pm. If you'd like to tune in, visit the event's CrowdFunder page and help raise funds for this vital work, as well as enjoying plenty of laughs.
To find out more about FareShare South West, follow them on Facebook or Twitter, or visit their website to donate.