News
In The Spotlight: Chris Jury
02/12/2020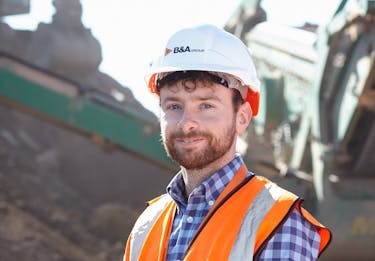 Chris originally joined the B&A team in August 2018 as an Environmental Engineer but has since become the Technical Sales Representative and is a crucial member of the B&A family.
Chris is a man of many talents and works across teams, partly in the B&A transport sales team and also the B&A stone supplies sales team; however, he says he can turn his hand to anything required by B&A!
His main responsibilities include:
Transport Sales:
This involves analysing ground investigation reports sent in by clients to characterise the subsoil which then allows a quote for disposal to be generated. Chris says: "This Requires an in depth understanding of how to characterise waste involving the investigation of the site history, analysis of the chemical testing data and scrutiny of trial pit/borehole data (where available). This characterisation of material on site then allows me to compare with the importation criteria for B&A tipping facilities and third-party tipping facilities to produce competitive disposal rates."
Aggregate sales:
"Producing rates for the supply of quarried and recycled products in line with customers' requests. Working within a tight team of experienced sales staff we utilise our knowledge to produce competitive rates to help our clients with tenders and live jobs."
When Chris was asked about his previous role at B&A as Environmental Engineer he said: "As an Environmental Engineer I was responsible for visiting site and conducting soil sampling and topographic surveys. This coupled with my previous work experience as an Asbestos Consultant has lead me to better understand the requirements of the construction industry."
Chris says that working at B&A is the perfect mixture of being part of a great team and working in a high tempo environment. He thoroughly enjoys the involvement of working on projects both big and small which have a positive impact in and around the south west.
Outside of work, Chris is very active and loves the outdoors. He spends a lot of time going for walks, cycling, climbing and tennis. He says there's nothing better than taking his young lad for a walk and ending up in a pub.
Since the pandemic, Chris says there has been challenging times within the company with limited staff within the office that requires greater communication and coordination. "Sales have been difficult however there is a positive feeling that things are slowly returning back to normal."