News
WORLD SOIL DAY – THE HISTORY OF TEMPLE QUARTER ENTERPRISE PARK
08/12/2020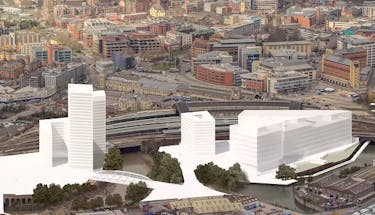 The 5th of December marks 'World Soil Day'. B&A would like to take a look back in time at what was the former Royal Mail sorting office and B&A's involvement with the current development taking place here.
A BRIEF HISTORY OF TEMPLE QUARTER ENTERPRISE PARK
The seven-acre site has been a cattle market and a colour works factory, exporting carpets and floor cloths around the world. It was also an 1830s cholera burial ground from the former St Peter's Workhouse! The former Royal Mail Sorting office was last used in 1997 prior to moving to Filton.
HOW DOES THIS AFFECT B&A (AND SOIL)?
The commercial history of this now demolished site has contaminated the soils leaving a large removal job for Kier and B&A to tackle. B&A were contracted to help Kier Regional in the removal of contaminated waste.
Firstly the removal of Hazardous Coal Tar followed by both off-site and on-site technical assistance for Hazardous soils. Using a B&A produced waste classification map helped point out areas to be tackled/remediated.

This can be offered to all sites that B&A service with a ground investigation, it's important to know the soils you are dealing with.