News
LAND REMEDIATION: REMODELLING GOLF COURSES TO PROVIDE A BETTER PLAYER EXPERIENCE
21/04/2022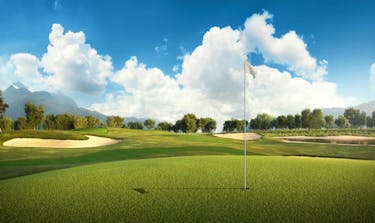 Since the onset of the global pandemic, the appeal of golf has broadened. More and more people are taking up the sport, as a great way to get outdoors, get some exercise and, of course, an opportunity to socialise while remaining socially distanced.
ATTRACTING & RETAINING MEMBERS
In response to golf's surge in popularity, there has been a drive among clubs to increase membership. Competition is fierce, with local clubs seeking to set themselves apart as the most attractive option to new and existing members.
One option is remodelling. Over time, courses begin to show their age. Greens shrink, contours become less sharp, bunkers change shape and migrate. As a living setting, inevitably there will be wear and tear. A tired looking course does not present the best face to potential members or those looking to renew.
In 2022, key clubs worldwide are planning big renovations. Several popular UK clubs, including Royal Birkdale and Wallasey have recently appointed new course advisors as part of developing a new master plan to upgrade their facilities.
STAYING AHEAD IN A COMPETITIVE MARKETPLACE
New golfers, particularly those just starting out in the game, will be attracted by fresher looking facilities. If another course is in better condition, with a more challenging layout, even existing members will be tempted to look elsewhere. To stay ahead in a competitive marketplace, a golf course needs continually updating.
Golf courses that have seen a drop in revenue and new membership enquiries, or have received push back from members when raising membership dues, should consider whether even a minor remodel could help make a difference. Golfers who feel their club is not offering good value for money in terms of playing experience may go to another club with fresher facilities. Even a small change, like adding a bank or improving an existing bunker could help change people's perception of the course and drive new income sources.
It's easy for golfers to grow bored of courses they find unchallenging. By updating their courses and facilities, clubs ensure players continue to return and enjoy play. Customer experience is everything and by focusing on providing a better experience, clubs will attract and retain serious golfers and consistent revenue. Or perhaps there is an area of the course where players find themselves continually backed up. Small renovations can help tackle these issues.
A properly landscaped golf course shows that due care and attention has been paid to the member experience. One that looks tired and worn shows a lack of investment and value. In golf, aesthetics can sometimes be just as important as the facilities themselves. Sprucing up the landscaping and fixing minor imperfections goes a long way towards making a course look and feel like new.
WE HELP GOLF CLUBS REMODEL & RENOVATE THEIR COURSES
At B&A Group, we work with golf clubs throughout the South West, helping them remodel and renovate their courses. Whether that's by adding in new banks or hills, extending the course to add a further nine holes or even creating an entirely new 18-hole course.
We provide high quality inert excavated material to change the layout of courses, constructed to British Standard – at no cost to the golf club. Additionally, we may offer a fee to clubs that can go towards the cost of the remodel. Our team works closely with project managers and course designers to ensure the project goes smoothly and is completed on time. We have a history of working with golf clubs throughout the region, helping them develop their grounds and providing a better experience for their members.
For clubs that haven't made any updates to their courses in some time and are looking for ways to attract new clientele, a low-cost remodel could be the solution.
Contact Eddie Charity from B&A Group on 0117 982 9561 to find out more and discuss your requirements. Or email info@bristolandavon.co.uk.