News
In the Spotlight – Workshop & Service Team
29/11/2021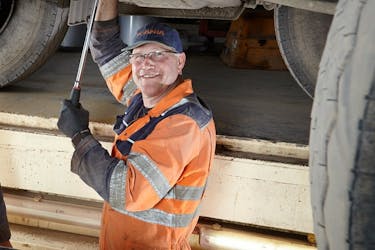 The team consists of Mark Nightingale & Ashley Nattress and they are a vital cog in the B&A machine! Under the management of Group Fleet Manager, Kevin Bogira, Mark and Ashley are responsible for the maintenance, servicing & repairs of every vehicle within the group. As well as this, they're responsible for ordering all workshop stock & all the various parts required to maintain the vehicles across the group. They also deal with repairs, servicing & maintenance of all the plant machinery here at B&A.
Mark started working for B&A Group in June 2019 as HGV Technician & Workshop Supervisor.
Before joining B&A Group, Mark had already amassed a vast range of experience in the maintenance sector, working for companies such as Iveco, MTU & Scania.
When asked what Mark enjoys most about working at B&A Group, he said "Because B&A is a family run business there is a great atmosphere throughout the company. Everyone is very friendly and there is a fabulous relaxed working environment."
Outside of work Mark enjoys spending time riding motorbikes and he recently returned from a trip to the Yorkshire Dales.
Ashley started working for B&A Group in December 2020 as HGV Mechanic and Workshop Trainee. Ashley has quickly become a key member of the B&A Workshop team.
Before joining B&A Group, Ashley worked for Stapletons Tyre services where he worked as a tyre fitter & mechanic.
When asked what Ashley enjoys most about working at B&A Group, he said "I enjoy working with the very friendly staff and everyone at B&A has been very welcoming & supportive." He also said he really enjoys the fact that there is a great family feel to the company.