News
Meningitis Now update
14/08/2018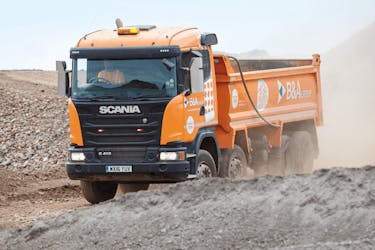 So far this year, the B&A Group has developed a number of fun and innovative ways to raise funds for Meningitis Now, from Pop Up Cafés and cake sales to sweepstakes and luxury hampers.
Building on the momentum from last year where we raised over £10,000 at the South Gloucester show and our in-house Christmas raffle, B&A Group is nearing the £60,000 mark, bringing us one step closer to fulfilling its pledge of £100,000.
Contributions have also come from our Meningitis lorry, which has been busy carrying out services in Bristol and the surrounding areas, where we've donated £1 for every load to the nominated charity.
The vehicle has also helped raise the charity's profile with our dedicated driver Piotr Lipowski often being asked about the lorry and pointing people in the direction of our website or Meningitis Now for donations and further information.
While Piotr is away on holiday, one of B&A Group's newest drivers, James Toogood, has taken over for the next few weeks, as he continues spreading awareness to a foundation so close to our hearts.
Discussing the highlights so far, Clare Raby, Marketing and Media Manager at B&A Group, said: "Our friends at Meningitis Now have been very busy and are trialling a new tool for childcare providers, Meningitis Aware Recognition Mark or MARM.
"Although meningitis can affect anyone of any age, babies and young children are most at risk. Their new toolkit has been developed to help those providing childcare to the under-5s ensuring that staff, parents and carers know all about meningitis and what to do should they experience a case."
On top of this, the organisation will be holding its first free Believers & Achievers weekend for 18 – 25 year olds, who have been affected by the pernicious virus; allowing them to meet each other, chill out and enjoy a range of activities. In addition to this, they will receive mentoring and counselling for extra encouragement and support.
The charity has confirmed that more Believers & Achievers events for 14 to 25 year olds are on the cards, and will be organised for later this year.
B&A Group will continue working hard to ensure we hit our £100,000 target and also congratulates Bev Corbett for her new appointment as Director of Research and Support for Meningitis Now.